America | 2010-2014
Asphalt Pavement Rehabilitation, Chile
Products:ACECompo™ GB
Application: Pavement Improvement
Background

This project was in Chile, South America. To provide safe and comfortable pavement for users, the managing authority renovated the pavement every five to ten years to ensure the pavement's quality and safety.

Problem / Task

The road problem was caused by the repeated loading, along with the vehicles coming back and forth, weather changes, ruts and potholes. Reflective cracking existed on the old roads, so it was necessary to modernize the roads.

Solution/ Design & Construction

ACECompo™ GB, a geocomposite constructed by a high-tenacity fiberglass grid, a lightweight polyester nonwoven geotextile, and bitumen coating, was introduced to improve the damaged asphalt pavement. ACECompo™ GB offers high strength, high modulus, and high temperature resistance for performing high reinforcement ability and raises the resistance of ACECompo™ GB to the damages form installation. First, three to five centimeters of the surface were removed by milling machine. Then, after the rubble was transported by truck loader, tack coat was added on the road to increase the adhesion of the ACECompo™ GB. The ACECompo™ GB helped to strengthen the effect of road reinforcement and reduce the transverse rifting behavior caused by temperature variation.

Result

Due to the short construction period, vehicles could drive immediately on the road after completion. With the ACECompo™ GB geocomposites to reinforce asphalt layers, the pavements can extend their service life and reduce the occurrence rate of reflective cracking under cyclic traffic load. After several years, the road was plainly in good condition. No ruts, potholes and reflective cracking problems happened again. Therefore, ACECompo™ GB proved to be beneficial to prolong the service life of roads.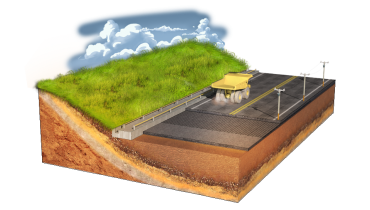 One of the most commonly visible damages along highways and roads are reflective cracks. Applying the bitumen coated glass fiber ACEGrid® GA or the ACECompo...
Related Products
Similar Case Studies
Taiwan | 2015-2019
Products:ACEGrid® GG
Application:Bridge Construction
Asia | 2015-2019
Products:ACEGrid® GG
Application:Base Reinforcement
Taiwan | 2015-2019
Products:ACEGrid® GG
Application:Slope Stabilization, Road Widening