Taiwan | 2010-2014
The Case of Repurposing Unused Fish Ponds into a Smart Grid Demonstration Park , Pingtung, Taiwan
Products:ACEGrid® GG
Application: Flood Detention
Background

Typhoon Morakot in 2009 induced a flash flood and seriously ravaged Pingtung County of Taiwan. Linbian Township in Pingtung experienced a blackout for two months, and the flash flood even submerged 1100 hectares of fish ponds. The crisis made this area become unable to use but it also gave an opportunity for the local government to transform the trend of aquaculture industry in Pingtung.

Problem / Task

As the land here was flooded and salinized by seawater intrusion, it is no longer suitable for planting. Also, policies of "water nurture & photovoltaic farming" and "industry transformation" were thus proposed, which aims to convert hydropower consumption into electricity generation and carbon reduction area. Therefore, government officials, Village Head, local residents, and several private companies, including: IBM, Institute of Nuclear Energy Research, and Tatung Company were working together in this project. Finally, a land with 7 hectares was rented to build a first smart grid demonstration area in Taiwan.

Solution/ Design & Construction

Photovoltaic panels were chosen to be installed instead, and beneath these photovoltaic panels, a natural ecological farming area were planned to be built as well. The water in this wetland is a mixture between seawater and discharged wastewater from the surrounding fish farms. The wastewater was treated by natural purification process in order to form a harmonious ecosystem. After purification, Guangtsai Wetland is capable of flood detention, water storage, and demonstrates an educational eco-friendly area.

This project combines solar photovoltaics and Linbian wetland into a multifunctional ecological park for green energy generator, ecological education, homeland rehabilitation, and flood detention. The ecological park uses ACEGrid® geogrids to construct reinforced earth structures with vegetation on its surface and to create a better environment for animals and plants. The installation of pores, waters, stilt landscape bridges, and stilt houses provides an ecosystem for the inhabitant to grow. The ecology and biodiversity is significantly improved, and this unused space has also turned into an area with educational meaning and flood detention function.

Result

The application of reinforced earth structure is a green engineering method that utilizes in-situ soils to stabilize the whole structure. It also provides the space for vegetation to grow, thus presents a green landscapes. Instead of traditional engineering method with concrete, using green engineering in construction can preserve the natural ecological environment. Besides, reinforced earth structures with vegetation surrounding create more business opportunities that attract more visitors to boost the development of local economy and tourism. The construction of Guangtsai Wetland in Linbian raises an awareness of sustainable development and educates the people to protect their environment with positive attitude. The green energy ecological park also spreads the message that we should coexist with our nature and maintain the balance between human activities and environment.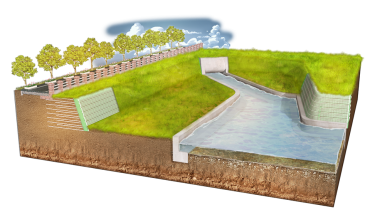 Detention basin is usually constructed in the heavy rainfall runoff area to temporarily store surface runoff and reduce the influence of flood on downstream are...
Related Products
Similar Case Studies
Europe | 2015-2019
Products:ACETube® - dewatering system
Application:Sludge Treatment
Taiwan | 2015-2019
Products:ACETube® - hydraulic structures
Application:Sediment Dredging, Cofferdams
Taiwan | 2015-2019
Products:ACEGrid® GG, ACEDrain™ S
Application:Flood Detention