Taiwan | 2015-2019
Shihmen Farm Pond Rehabilitation Project in Miaoli County, Taiwan
Products:ACESandbag™ EC
Application: Slope Erosion Control, Flood Detention
Background

The "Shihmen Water Environment Improvement Project in Dahu" mainly aims for restoring the Shihmen farm pond which is established at a slope in 1918. Thereby, because of the sloping terrain, it is difficult to irrigate stably, so local people use the farm pond as the main water resource.

Problem / Task

Due to the farm pond used for over a hundred year and lack of maintenance, this place suffers from worsening siltation, poor storage performance, and overgrown weeds problem, so the pond is finally abandoned. The Shihmen farm pond is situated on a critical node between the Taiwan Romantic Route 3 and the National Long-distance Trail - Raknus Selu Trail; thus, the customer hopes to reuse the farm pond after improving the environment. The construction requirements take storage capability, flood detention, ecological conservation, recreation, and scour resistance during heavy rainfall into account for environment improvement and local economic development.

Solution/ Design & Construction

Given the project condition, an environmentally friendly ecological engineering method is used in the case. Before rebuilding the farm pond, dredging and foundation leveling are the priorities to be done. And the restored vegetation allows supplying the living space for animals and the aesthetic environment. ACESandbag™ is a very suitable choice to rehabilitate farm ponds. Considering the condition, we act on reusing the on-site soil directly filled into ACESandbag™ which can not only save the cost of waste transportation but also be beneficial to plants' growth and recovery due to the fertile earth. ACESandbag™ has excellent adaptability to various irregular terrain, allowing installing sandbags following the design and farm pond's shape. After installation, ACESandbag™ can protect the surface of the farm pond from eroding, provide space for plant growth and species habitat, and beautify the landscape to become a distinctive spot.

Result

Using ACESandbag™ EC can effectively protect the slope from erosion, restore the vegetation, and recover the environment. Good durability also allows long-term protection of the ecological environment. In addition to fulfilling the local framer's requirement, the construction assists the rural industrial development and save the construction fee for the local government and implementation unit. The farm pond functions well, even during heavy rainfall. Shimen farm pond is not merely for flood water detention and retention, but the ecological environment system can also be an educational spot. This project achieves the goals of both ecological conservation and economic development and sustainable agroecological farming systems.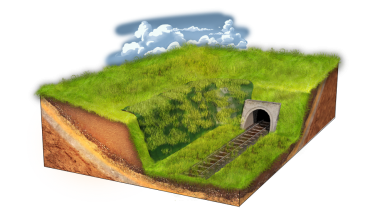 As rain impacts the ground surface, raindrops displace topsoil, exposing roots and the foundations of structures which can critically destabilize slopes. Enhanc...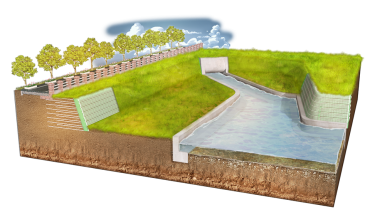 Detention basin is usually constructed in the heavy rainfall runoff area to temporarily store surface runoff and reduce the influence of flood on downstream are...
Related Products
Similar Case Studies
America | 2015-2019
Products:ACEGrid® GG, ACETex® NW
Application: Basal Reinforcement
Taiwan | 2015-2019
Products:ACEGrid® GG
Application:Slope Stabilization, Road Widening
Asia | 2015-2019
Products:ACEGrid® GG
Application:Slope Stabilization