ACEGrid® GV- PVA woven geogrids with polymer coating
Polyvinyl alcohol geogrid widely applied for soil reinforcement
About
---
Flexible Woven PVA Geogrids for Soil Reinforcement ――――――――――――――――――――――――――――――――――――――――――――――――――――――――――――――――
ACEGrid® GV are flexible woven geogrids fabricated with high-tenacity multifilament polyvinyl alcohol (PVA) yarns with durable polymer coating. The tensile strength can range from 20 kN/m to 800 kN/m. ACEGrid® GV geogrids are broadly used in soil reinforcement applications, especially when the structures allow very limited deformation, for example, roadway/ railway embankment and steep reinforced slope.

Function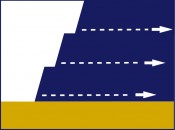 Reinforcement
Features
Exceptionally high tensile stiffness and anti-creep performance with flexibility
The PVA yarns have exceptionally high stiffness, which make the PVA geogrids have extremely low elongation and creep. In comparison to welded geogrids and other stiff geogrids, ACEGrid® GV geogrids can also exhibit high strength at low strain but with an even higher flexibility, which is beneficial for enhancing geogrid-soil interaction behavior and reducing the efforts of geogrid installation.

High tensile modulus with very low elongation
ACEGrid® GV geogrids have exceptionally high tensile strength and modulus among all flexible geogrids. When the tensile strength of ACEGrid® GV are developed at low strains, the deformation of structures reinforced by the geogrids can be reduced.

Outstanding durability for high performance in the long term
ACEGrid
®
GV geogrids are uniformly coated with durable polymer to enhance the overall resistances to ultraviolet, weathering, acid, alkali, bio-decomposition, and hydrolysis. The change of coating materials is possible for different project requirements.


Based on more than 20 years of experience manufacturing geogrid, ACEGrid® GV geogrids have proven successfully to excel due to its excellent mechanical behaviors, durability, quality, and cost effectiveness. The benefits of using ACEGrid® GV are summarized as below:
• Applicable in structure bearing high loads but have low tolerance of deformation
• Outstanding reinforcement ability to fulfil diverse requirements
• High mechanical performance and long-term durability to ensure structure service life
• Simple and quick installation to reduce construction time and costs
Related Case Studies