News
Dewatering treatment, why ACETube® is a true ace?
The New Dewatering Method Draws More and More Attention
Dewatering technology plays an important role in many large-scale and/or small-scale projects such as sludge treatment, sediment dredging, and tailings dewatering. The main purpose of dewatering is to reduce the volume of sludge; this step makes sludge removal and disposal easier which allows lower cost of treatment. The new innovative dewatering tube can reduce the volume of sludge up to 90%. In addition, the dewatering tube has outstanding superiorities in terms of cost-effectiveness and nonrestrictive area which has made it a competitive choice around the world.

Compared to other traditional methods, the adaptability and economic benefits of dewatering tubes are superior to other competitive products. For instance, the efficiency of the drying bed depends on the site for disposing of a large amount of sludge. The cost-effectiveness of the filter press relies on the quantity of sludge treatment since its installation cost and carbon emission are comparable higher.

However, dewatering tubes enable us to customized according to each case requirement to optimized performance and lower capacity burden. Refer to the comparison as attached below: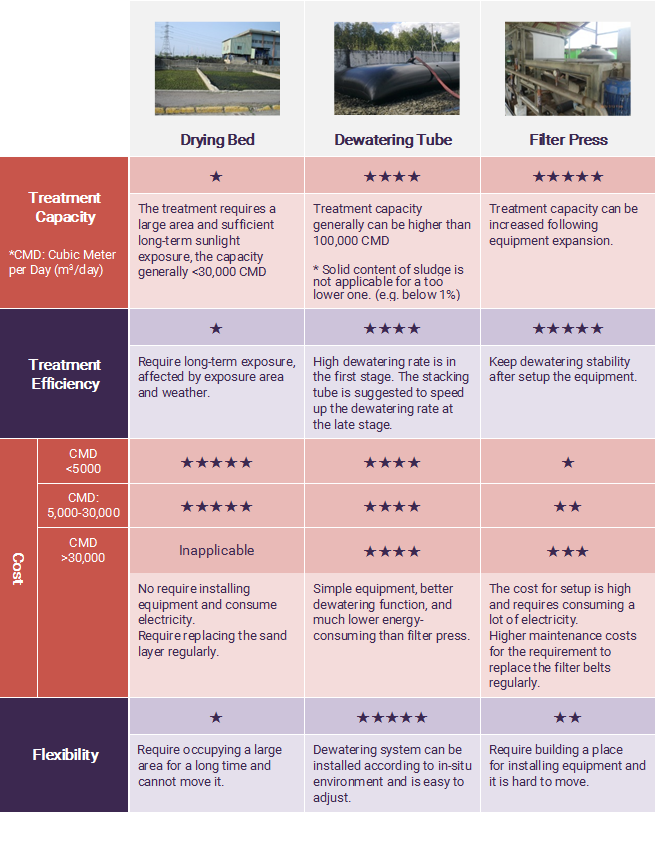 How does Dewatering Tube work?
In general, sludge is pumped into ACETube® dewatering tubes at a rate determined by either the pump suction capacity and/or sludge content. During/after the filling process, the water dissipates through the fabric while the solid particles are retained within the geotextile tubes. Sufficient sunlight and air exposure further dry the retain solid particles thereby leaving little or no moisture contents thereafter. This significantly reduces the volume of sludge making removal and disposal work easier. The dewatering process involves the following three main steps as shown below.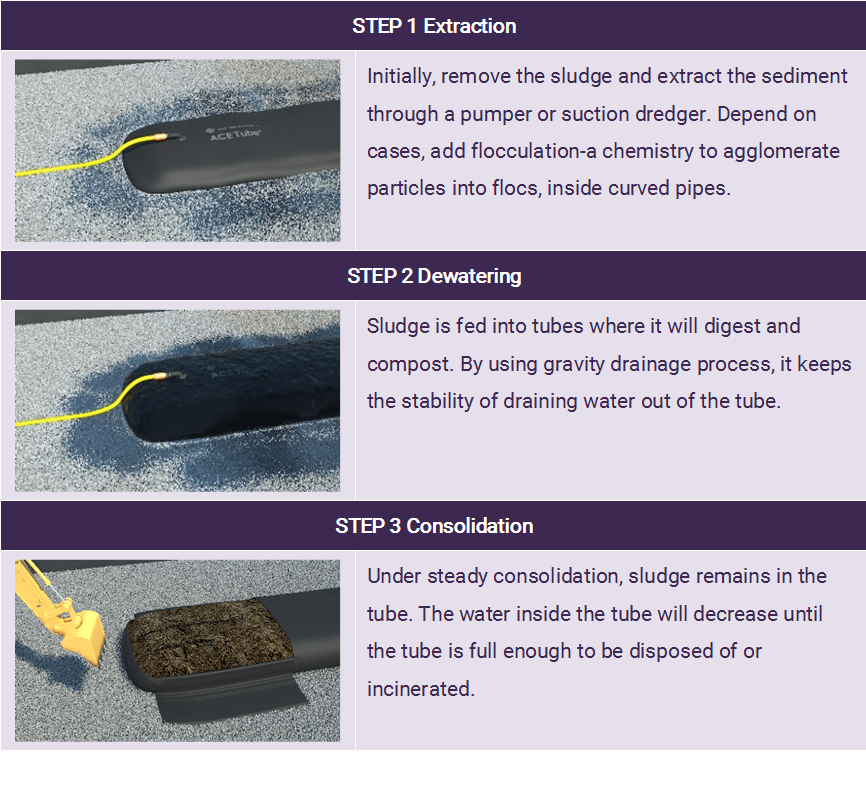 Typical layout setting and working procedure of the dewatering system are shown as below.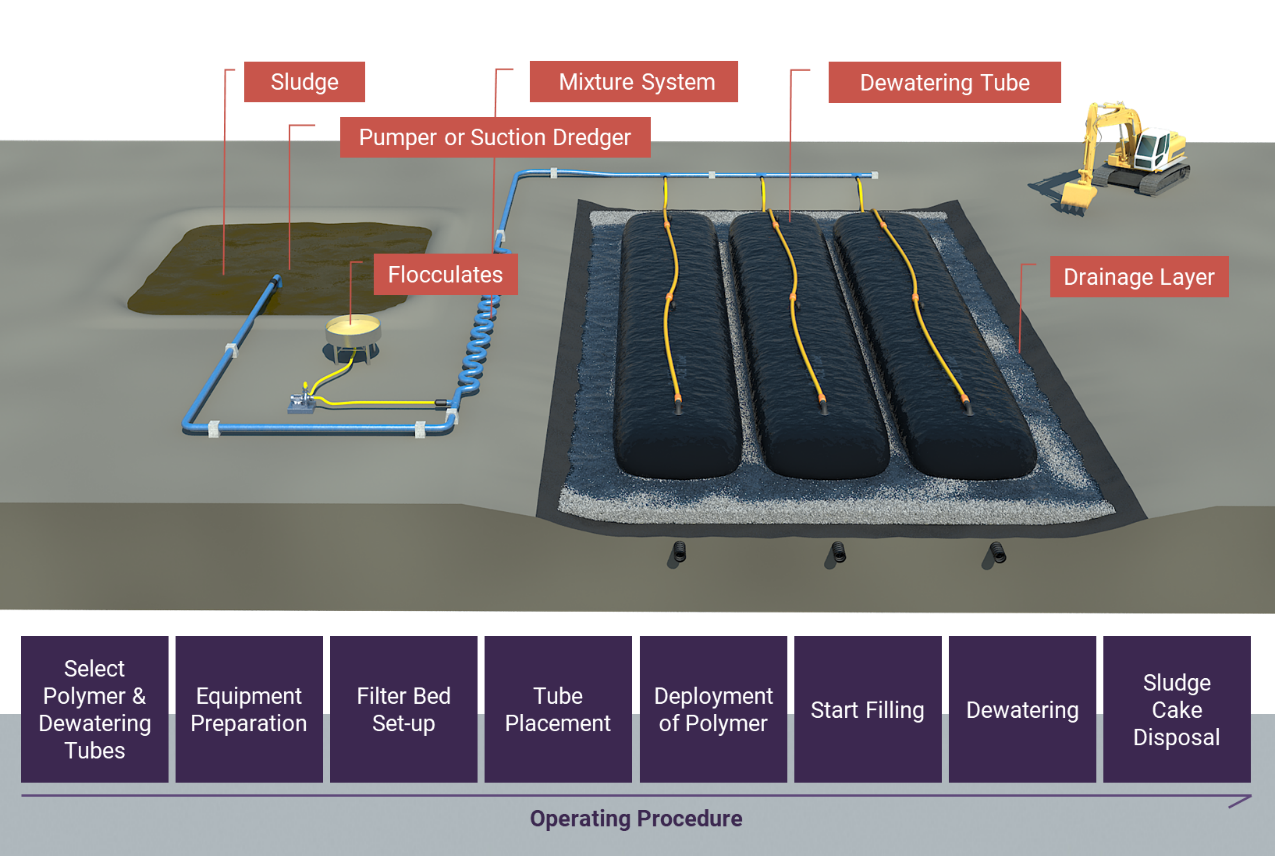 Dewatering tube is utilized in a variety of applications including: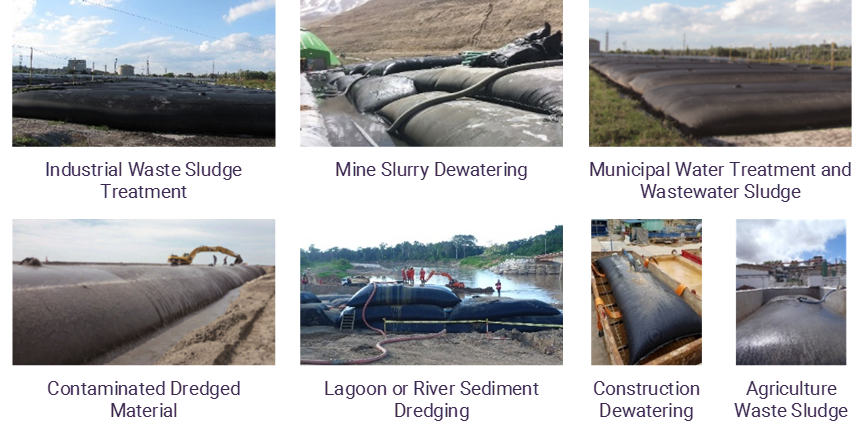 For cases which require a temporary solution, we strongly suggest our dewatering tube as a convenient and versatile solution for your works. It can be efficiently used for contaminated dredged material in lagoon or river sediment and construction dewatering. Similarly, for cases such as sewage treatment plants, wherein the concerns of insufficient area for drying beds and considerable cost for installing filter presses, ACE recommends utilizing dewatering tubes. However, to achieve the optimal effect, the volume of sludge solids content should be at least 1% or more.

Why should we choose ACETube® dewatering system?
The key component for dewatering system in the ACETube® is the effluent and sludge containment functions by using high permeable geotextiles fabrics with optimal aperture opening to achieve higher treatment capacity. ACETex® is made up of high tensile strength polypropylene (PP) yarns with bi-axial strength of is up to 300/300 kN/m. Another characteristics of ACETex® is its excellent abrasion resistance and can withstand ultraviolet light, acidic, and alkaline environment. Moreover, our ACETex® products are ISO 9001 certified which complies with international norms and regulation for quality control and quality assurance manufacturing process.
The superiorities of ACETube® dewatering system includes but not limited to the following:
High treatment capacity decrease costs.
Higher permeability shortens the dewatering process.
ACETube® dewatering treatment captures more solids inside bags.
Less site restriction (Tubes can be stacked.)
High seaming strength allows increment of filling height dramatically.
Excellent resistance to abrasion, ultraviolet light, acid, and alkaline with a variety of sludge contents.
Customized specification available for circumference up to 34.5m and length of more than 100m.

ACE Geosynthetics offers a comprehensive service package including design dewatering system, material supply, and installation support. The two cases (links below) show case solutions using ACETube® dewatering system with our professional support. For the case in Lithuania, it involves sewage treatment plant which primarily deals with a large amount of smelly sludge. Similarly, the other case involves a coffee factory in South American, with limited space constraints. Thus, the use of ACETube®- dewatering system was a way to decrease the volume of sludge effectively freeing up the limited space. The solution offered by ACE fulfills the requirement needs of our clientele. For more information about the cases, please read the case study:

To our customers, not only is ACETube® dewatering system adopted in a variety of applications but our solution is also cost-effective and reasonable prices. ACE strict policy insists on controlling quality and advancing our products with reliability and technical support services, ACE strives to give our customers the best experiences. Choose ACE, reliable support.
Similar News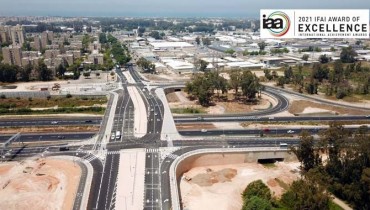 TOP STORY ACE Geosynthetics wins 2021 International Achievement Award (IAA) presented b...
2021/12/22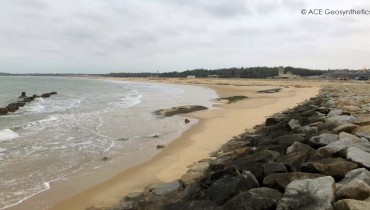 TOP STORY Kinmen Airport is the main airport in Kinmen County (a group of the offshore island...
2021/10/20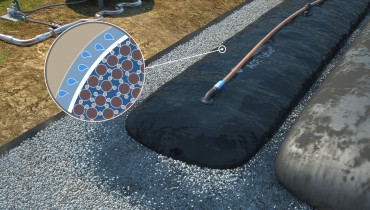 TOP STORY Sludge, a semi-solid slurry, is generated from various industrial and refining...
2021/07/13